Express yourself!
Come express yourself through visual and studio arts at the Uncle Ralph Craft Shop! Our Arts and Crafts complex boasts of amazing programs like textiles and ceramics. But of course, we always love making bird houses, bead jewelry, tie-die shirts, gimp bracelets, key chains, and all kinds of cool arts and crafts activities. Rain or shine, the Craft Shop is always a hopping place!
Our music program is growing, too. We have many guitars and ukuleles for campers to learn to play. But that's not all! Our Beat Lab will get you hooked on creating new cool beats like a professional DJ.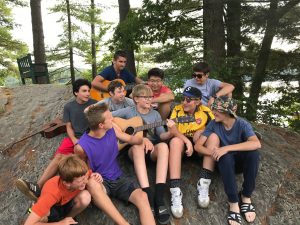 And of course, we love DRAMA! Every day, you can laugh with your friends while doing improv, create mini movies and videos to show at the end of the session, or prepare for the big Battle of the Bands contest!
Audition to be in our Musical Production during 3rd session only, or be part of a Glee Club during 2nd session.