Need some Billings swag off-season?
You may purchase a selection of our merchandise online. All prices include taxes and shipping to the US. Please email the store manager at [email protected] to find out prices for international shipping! If you have any questions, please email our store manager Anna Pond. (Please note that Anna is not physically at camp — there is a separate Camp Store when Camp is in session.)
We will do our best to ship orders in 7-10 days. If you run into any PayPal issues on this page, please use the email link above to let me know and I'll try to fix the problem as soon as possible! 
For exchanges and returns: please email our store manager for any concerns with your order. Due to the nature of our store setup, we may ask that you pay return shipping in the case that you want a different item than originally ordered. In the unlikely event that you receive the incorrect item, please email the store manager and we will resolve the issue ASAP! Thank you for your understanding!
Your cart should open in a new tab when you add items to it. If you accidentally close out of the cart tab, just add another item from this page to prompt the cart tab to open again, and then remove that extra item before checking out. 
---
---
---
Summer 2022 Camp Store Update!!
We had a great time at the 115th-ish Reunion in June 2022! We were able to sell a lot of our camp store merch to alumni and current staff alike. Due to our Reunion sales, we're running a bit low on inventory, so most of our clothing items below are being kept at the Camp Store at camp this summer. Which means they won't be for sale in the online store! We will be back in a few months with some more merch options to buy online.
For now, we still have songbooks and stickers for sale at the bottom of this page.
Thanks for understanding! 
---
---
---
NEW! Sweatpants!: $30
New year, new merch! Say hello to our newest product — cozy sweatpants! With an elastic drawstring waistband, jogger style leg openings, and side pockets! These sweatpants are perfect for relaxing at home or wearing to breakfast before it gets too hot! Available in Billings Blue (navy) and dark grey, with a clocktower logo on the left hip. Adult sizes S-XL. 60% Cotton/40% Polyester.
**We are currently SOLD OUT of Adult M in the Navy Blue color. I will update this page when we have restocked! Thank you!!**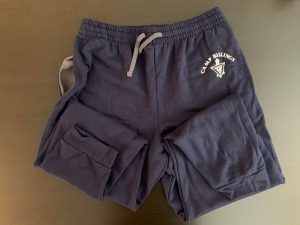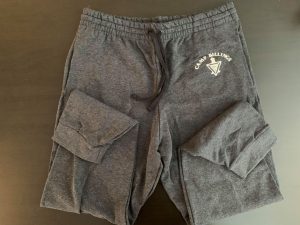 ---
Hooded Long Sleeve Shirt: $24
Last summer's overstock!! We have some leftover grey hooded long sleeve shirts from Summer 2019!! These are so cozy for cool summer nights, but still lighter weight than a sweatshirt! A perfect balance. We only have grey ones in stock, and only in size Adult M! 100% Cotton.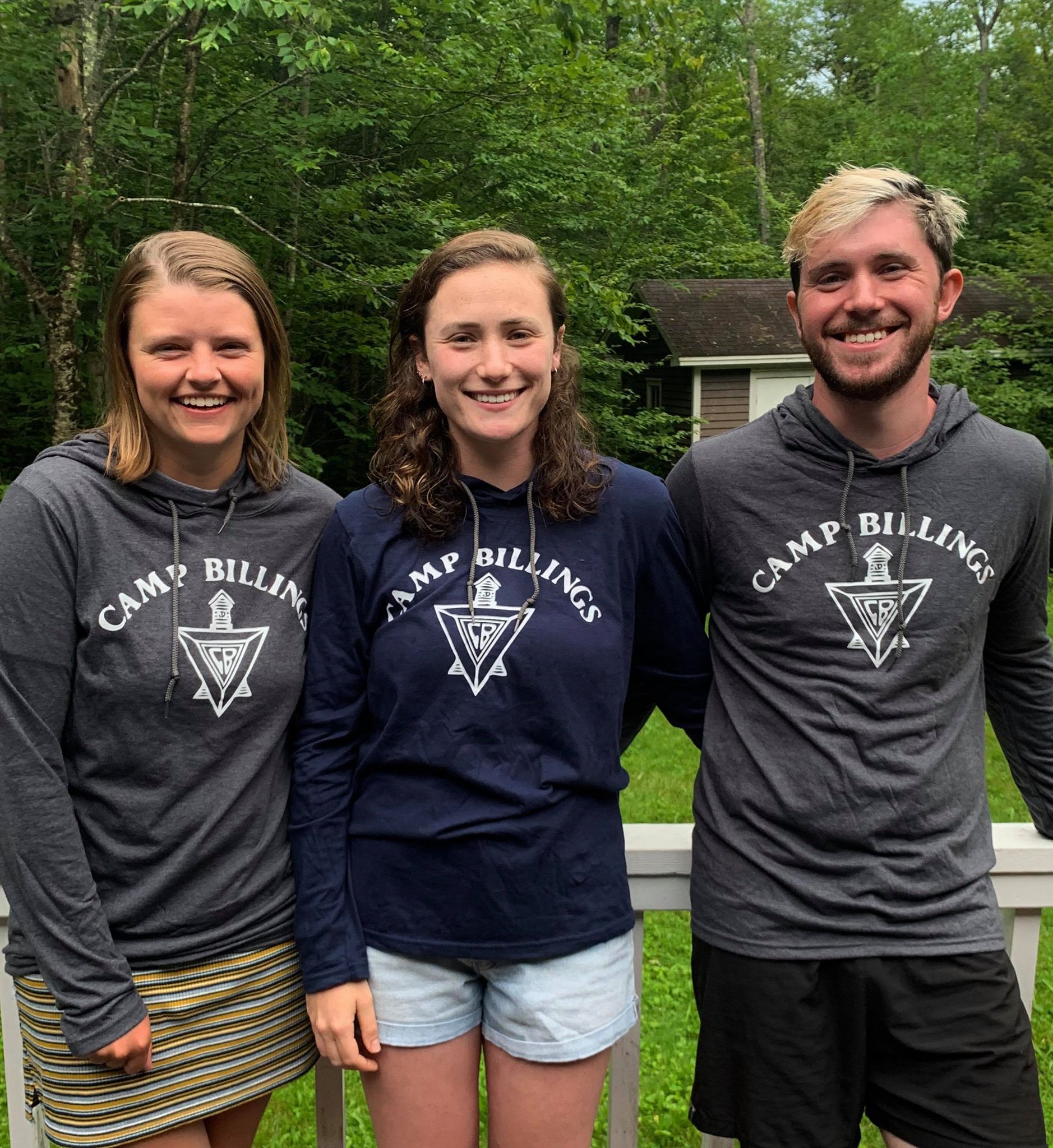 ---
Sweatshirt Blankets 
Just in time for chilly fall and winter — we have Camp Billings Blankets! They're soft like our sweatshirts and very cozy! Measurements: 50 inches x 60 inches. Billings blue blanket with white logo. We have a limited supply of these so get one while you can!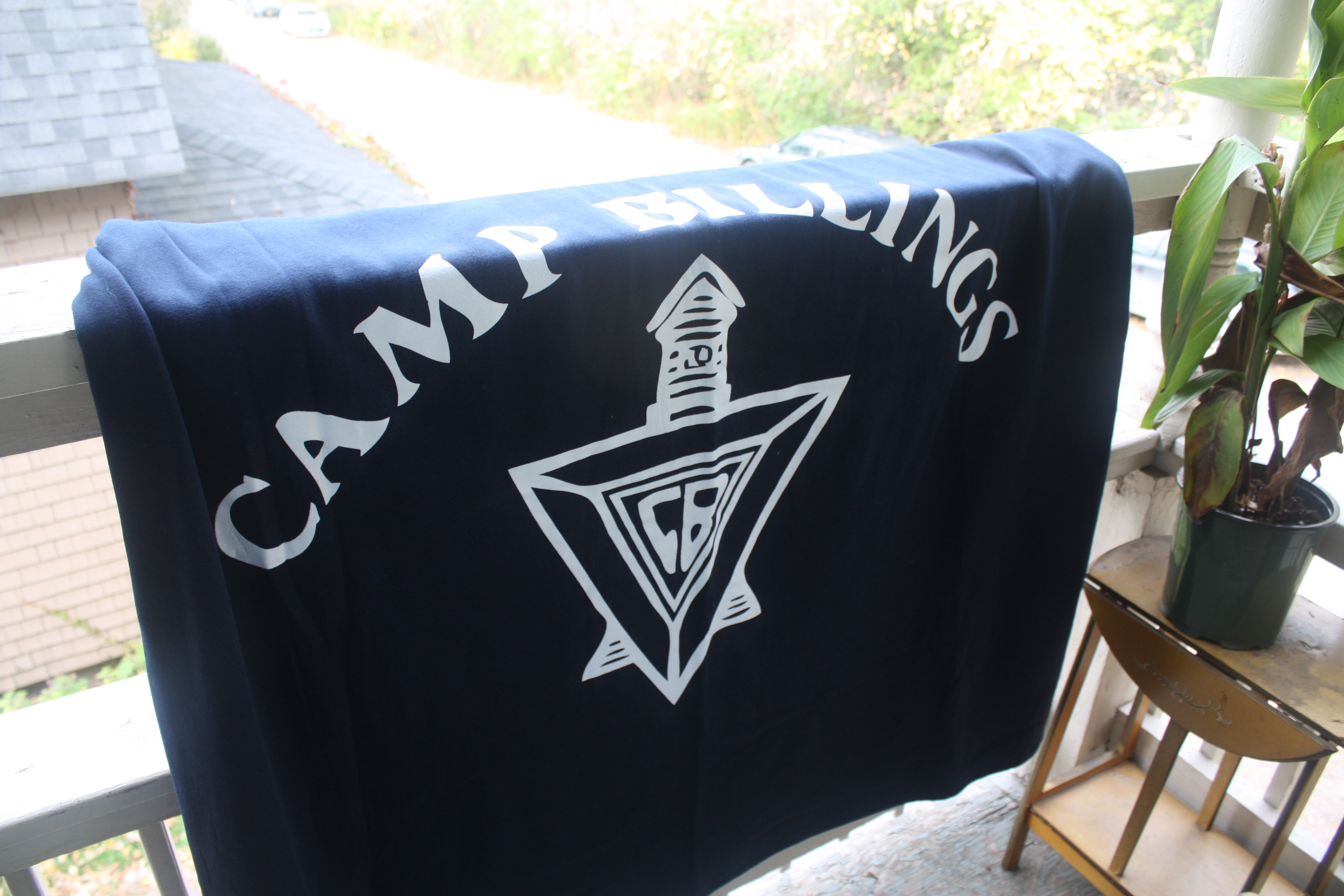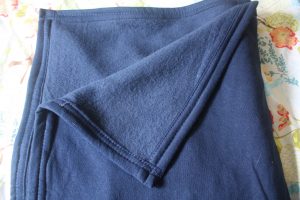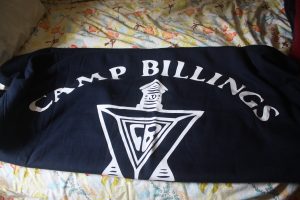 ---
Water Bottle: $15
Stay hydrated all year long!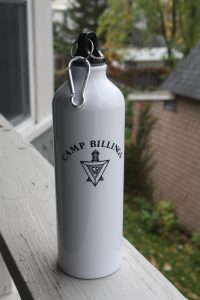 ---
Long Sleeve Shirt: $22
A new style with a classic logo! This long sleeve shirt is perfect for slightly chilly nights at camp, or a nice brisk fall morning! (Hint: it's actually perfect for every season!) This shirt is the same company and style as our short sleeve shirt, and the sizing is unisex.  Adult sizes S-XL. 100% Cotton.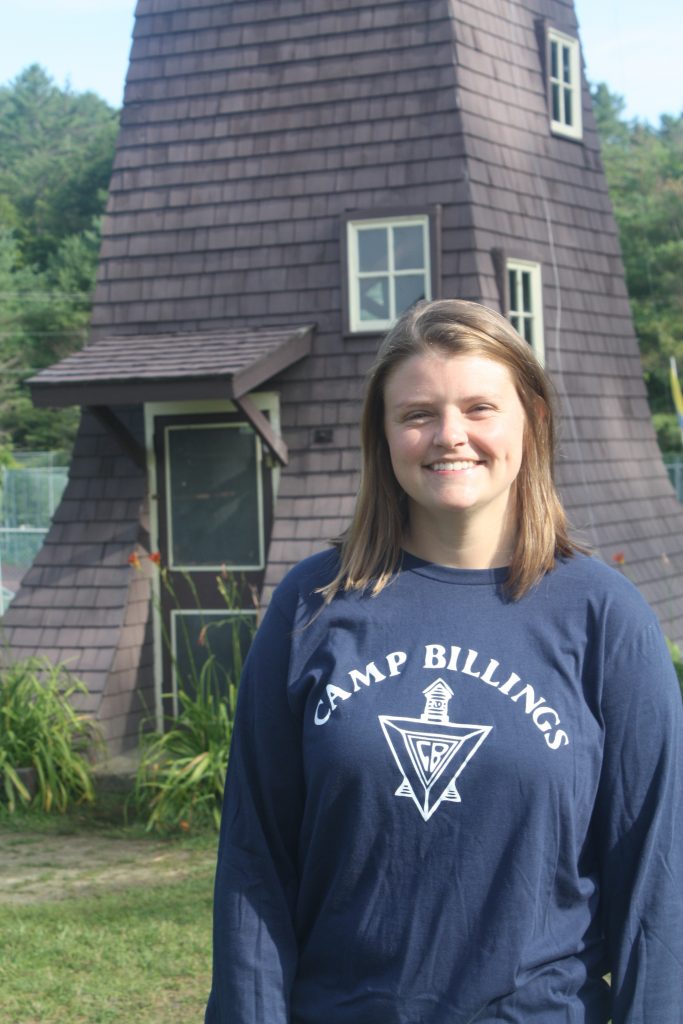 ---
CB Hooded Sweatshirts: $40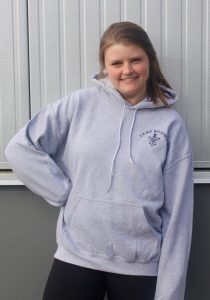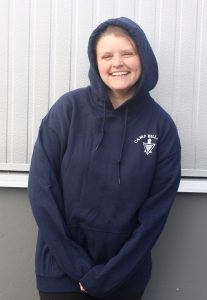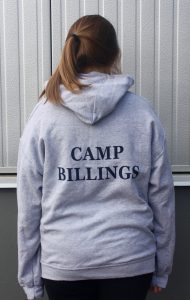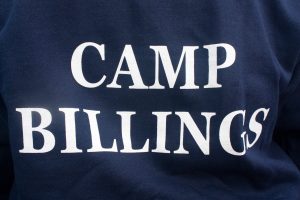 Perfect for a winter night at home or a chilly night at camp, our Camp Billings hoodies are perfect for every season. With the Clocktower logo on the front (where the heart is!), "Camp Billings" on the back, a front kangaroo pocket, and a drawstring for the hood, our hoodies have everything you need! Available in navy and heather grey, sizes Unisex Adult S – XL. 50% Cotton, 50% Polyester.
---
CB Zip-Up Hooded Sweatshirts: $40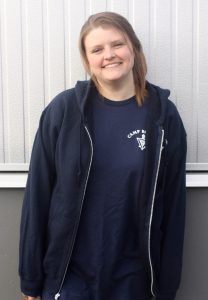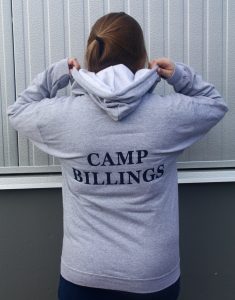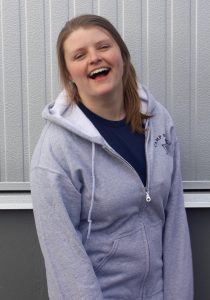 Our hoodies also come in the zip-up style! These sweatshirts are perfect for every age and every activity.  With the same logos and drawstring, the zip-up has two front pockets and is as comfortable as ever. Available in navy and heather grey, sizes Unisex Adult S- L. 50% Cotton, 50% Polyester.
---
PJ Pants: $24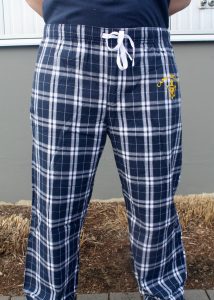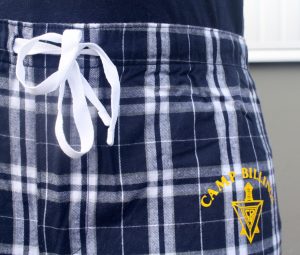 A crowd favorite!  These flannel checkered Camp Billings PJ pants are perfect for all sleeping occasions — camp, home, and sleepovers with all your friends! With a yellow Clocktower logo, elastic waistband and white drawstring, these pants couldn't be more comfortable. Available in blue & white checkered, sizes Unisex Adult S-XL. 100% Cotton Flannel.
---
Beanie: $15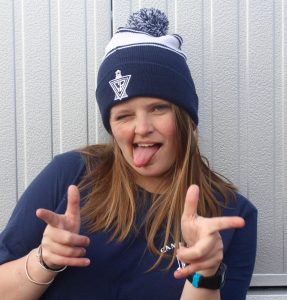 What better way to show your love for camp than with a cozy Camp Billings beanie. Navy blue with a white stripe, a blue & white pom-pom, and an embroidered Clocktower logo, these beanies are perfect for a chilly day. Available in one unisex size. 100% Acrylic.
---
Short Sleeve T-Shirt: $18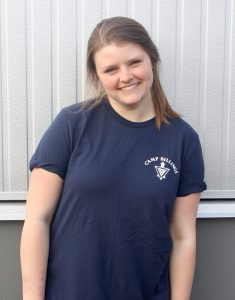 A Billings classic! This t-shirt is perfect for every day of the year, whether you're at camp or at school. With just the Clocktower logo on the front left chest, this t-shirt is simple and ready to wear. Available in Billings blue (navy), sizes Unisex Adult S-XL. 100% Cotton.
---
Camp Billings Songbook: $18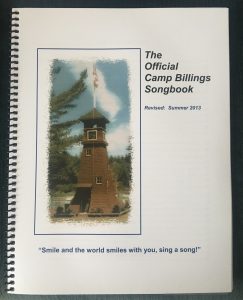 Just like the ones in the dining hall– and now you can have one of your own!
---
Camp Billings Magnets: $5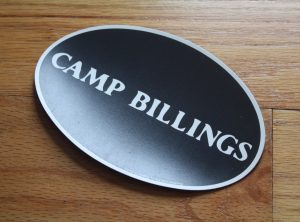 Great for fridges or car bumpers ! Magnets are about 4″ x 5″. If you'd like more than one, you can adjust the quantity in your cart!
---
Camp Billings Stickers: $5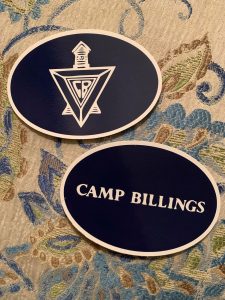 We have two text options for our stickers, the Clocktower and "Camp Billings." If you would like one (or more) of each, please add one of each choice to your cart, and then adjust the quantity once the items are in your cart! Stickers are about 2″ x 3″.
---
Camp Billings Pennants: $6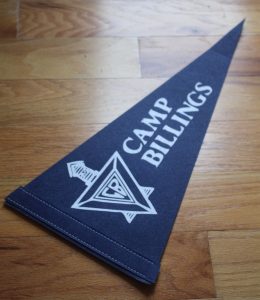 Hang one of these in your bedroom and you'll be reminded of Billings all year long!
---
Camp Billings Notecards: $2 for 1, $7 for 5, $12 for 10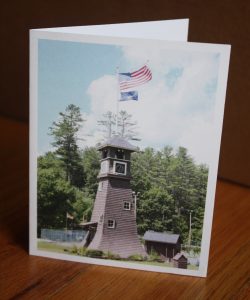 These beautiful folded cards are printed with a shot of our beloved clocktower and are 5.5" x 4.25". They can be sold individually or in sets of 5 for a bargain price! Accompanied by envelopes.
---
Waterfront Photo Cards : $1 for 1, $4 for 5, $8 for 10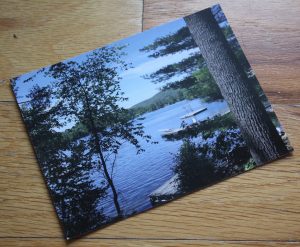 ---
Lanyard: $5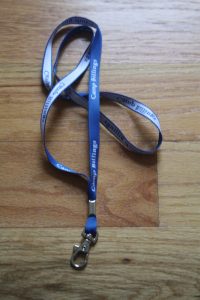 Clip on your keys, your work badge, or anything you want!! 14″ long.
---