Your contributions go a long way in supporting camp and keeping it sustainable for the future. The program areas, facilities, website, field trips are just a few of the areas that rely on the generous donations from our alumni, parents and friends. We accept money or materials…these donations help keep the price of tuition one of the most affordable in New England.
With help from our new directors, we put together a current wish list of some specific needs. Please consider donating now so that some of these needs are met for next summer. Thank you!
Program Areas
Yolo Yaks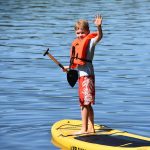 Back when I was a camper, taking out windsurfing boards, without their sails, was a popular activity. Balancing contests and sun bathing would ensue. While windsurfing is still offered at camp, Yolo Yaks, or paddle boards as they're more popularly known beyond the white gates, are now enjoyed by all. Yolo Yaks are one of camps most popular activities these days, and we are in need of some new ones!
Smokercraft Engines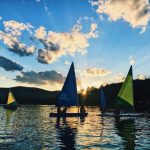 While sailing was always one of my favorite activities at camp, my skill level didn't necessarily match my enthusiasm for the sport. More times than I can count, a smokercraft was sent out to tow my sunfish back to shore. I am grateful for those trusty vessels. Camp is in need of new engines for their smoker krafts to keep watch over all campers exploring the lake.
Life Jackets!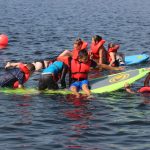 Although every camper out on a boat has proven their strong swimming capabilities by passing the boat test, life jackets are still required by camp rules (and the law)! While camp has nearly cycled through all the old fashion orange and white striped life jackets, we always need new ones. From canoeing to sailing, waterskiing to stand-up paddle boarding, life jackets are potentially the most utilized equipment on camp! Lifejacket donations accepted as well – Contact The Directors.
Instrumental needs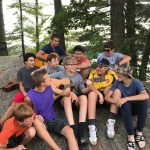 Music is a growing program area at camp and as such the need for instruments is growing. We're specifically in need of guitars (need 4-5), ukuleles (need 3-4) Percussion instruments of all sorts including a drum set, xylophone, bongos, congas, cymbals, etc. We're raising funds to purchase instruments and of course donations are always accepted! So if anyone has any instruments in their attic, garage, shed, or otherwise please Contact The Directors.
How can something that bright be so hard to find?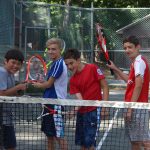 According to one of the camp's new directors, Anne Collins, (and she promises it's not just because she used to run tennis) tennis balls disappear at camp faster than oatmeal fudge bars off the plates of Cabin 7 campers. We need more tennis balls!
"Faster! Faster! Faster!"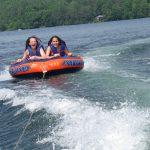 A Cabin 6A camper yells, "Faster! Faster! Faster!" from the tube dragged behind our new and improved motorboat before being thrown into the air and splashing into the refreshing lake. Tubing is one of our most popular program areas and an absolute thrill for all ages. Camp needs new tubes so campers can continue to experience this excitement.
Dude, can you chip in money for gas?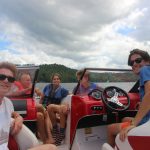 It's often overlooked, but fuel is a necessity for camp and it costs more and more every summer (but you all know that ;). Powering the Ski-Boat, mowers, pontoon boat, camp vehicles for camping and canoe trips all costs money. Ensuring we have funds available means we don't have to charge campers (and their parents) for waterskiing and trips.
Donate to Program Areas!