Your contributions go a long way in supporting camp and keeping it sustainable for the future. The program areas, facilities, website, field trips are just a few of the areas that rely on the generous donations from our alumni, parents and friends. We accept money or materials…these donations help keep the price of tuition one of the most affordable in New England.
With help from our new directors, we put together a current wish list of some specific needs. Please consider donating now so that some of these needs are met for next summer. Thank you!
Program Areas
Yolo Yaks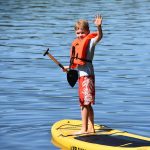 Back when I was a camper, taking out windsurfing boards, without their sails, was a popular activity. Balancing contests and sun bathing would ensue. While windsurfing is still offered at camp, Yolo Yaks, or paddle boards as they're more popularly known beyond the white gates, are now enjoyed by all. Yolo Yaks are one of camps most popular activities these days, and we are in need of some new ones!
Smokercraft Engines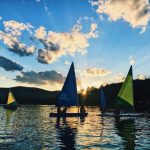 While sailing was always one of my favorite activities at camp, my skill level didn't necessarily match my enthusiasm for the sport. More times than I can count, a smokercraft was sent out to tow my sunfish back to shore. I am grateful for those trusty vessels. Camp is in need of new engines for their smoker krafts to keep watch over all campers exploring the lake.
Life Jackets!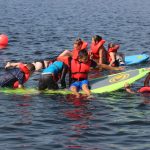 Although every camper out on a boat has proven their strong swimming capabilities by passing the boat test, life jackets are still required by camp rules (and the law)! While camp has nearly cycled through all the old fashion orange and white striped life jackets, we always need new ones. From canoeing to sailing, waterskiing to stand-up paddle boarding, life jackets are potentially the most utilized equipment on camp! Lifejacket donations accepted as well – Contact The Directors.
Instrumental needs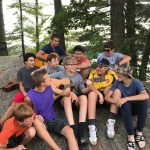 Music is a growing program area at camp and as such the need for instruments is growing. We're specifically in need of guitars (need 4-5), ukuleles (need 3-4) Percussion instruments of all sorts including a drum set, xylophone, bongos, congas, cymbals, etc. We're raising funds to purchase instruments and of course donations are always accepted! So if anyone has any instruments in their attic, garage, shed, or otherwise please Contact The Directors.
How can something that bright be so hard to find?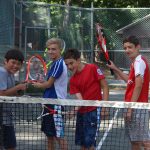 According to one of the camp's new directors, Anne Collins, (and she promises it's not just because she used to run tennis) tennis balls disappear at camp faster than oatmeal fudge bars off the plates of Cabin 7 campers. We need more tennis balls!
"Faster! Faster! Faster!"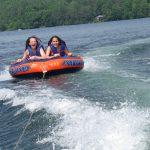 A Cabin 6A camper yells, "Faster! Faster! Faster!" from the tube dragged behind our new and improved motorboat before being thrown into the air and splashing into the refreshing lake. Tubing is one of our most popular program areas and an absolute thrill for all ages. Camp needs new tubes so campers can continue to experience this excitement.
Dude, can you chip in money for gas?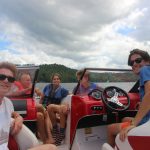 It's often overlooked, but fuel is a necessity for camp and it costs more and more every summer (but you all know that ;). Powering the Ski-Boat, mowers, pontoon boat, camp vehicles for camping and canoe trips all costs money. Ensuring we have funds available means we don't have to charge campers (and their parents) for waterskiing and trips.
Staff Needs
Mandatory Trainings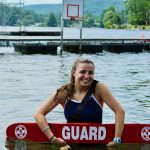 Our new directors have a commitment to developing and investing in our talented staff through youth leadership opportunities. Mandatory trainings, facilitated by professionals in the field, will give Billings staff an opportunity to grow to become even better role models for our campers.
Office to Kitchen… Office to Kitchen… Come in Kitchen…
As Camp has gotten more and more sophisticated regarding activity areas, such as the ropes courses, updated ski-boat, and pontoon boat, the need for constant communication has become more and more important. With our policy limiting cellular devices in camp (and the fact that there's practically no service) we rely on old-fashioned Walkie-Talkies. We're currently short on devices, and would like to ensure that each cabin, program, area, and division leader has a functioning, up-to-date, waterproof, Walkie-Talkie. Help us acquire the tools needed to ensure safe and efficient operations at camp. Over and out…
What's on the Second Floor of Dartt Hall?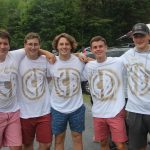 Not too long ago, the main attraction of the staff lounge on the second floor of Dartt Hall was the bulky old PC with its dial-up internet. Camp is now wireless. It is time for the staff lounge to get a reboot as well. Our counselors work hard all day making sure campers are having the time of their lives! Let's provide them with an updated and cozy space to recharge.
It's Getting Hot in Here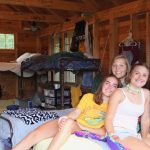 When at camp, you get to leave most real-world problems at home. Unfortunately, the ever-rising temperatures seem to have made their way to Lake Fairlee. While we have found ways to have nearly every activity in the water on the hottest days of the summer (from crafts in the pontoon boat to basketball in the shallow end), cabins need new fans to keep our tired-out campers cool as they sleep.
"Back when I was in Cabin 5…."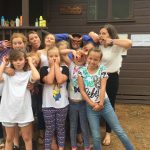 Were you in the cabin that took their cabin picture all squeezed into a single stall in the johns? How about the 1996 production of The Sound of Music? Remember when the Prima Ballerinas were the champions of the Country Fair in 2008? All of these memories and countless more have been preserved in the alumni room off of Dartt Hall porch. In order for them to remain available to browse for generations to come, we need to purchase new picture frames and protective casings for our cherished memories. Don't you want to show your granddaughter that picture of you winning the round the lake race in 1984?
Facilities
New Flag Poles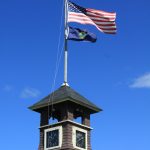 It's a Billings tradition to welcome staff every summer from around the world. This year there were counselors from Scotland, England, and Canada. We need to replace the flag poles around the courts, so we can continue to make our foreign staff feel welcomed, as we raise flags in their honor.